Settlers of Catan is a classic tabletop game that has made its way to many household tables since 1995. As board gamers, we hear many mixed opinions about this very popular board game. At the end of the day, we think that Catan is a great gateway board game that offers some very fun game mechanics and elements that everyone knows and loves. If you are a fan of Catan and are looking for more board games like Catan, then we have the perfect list for you!
When thinking of board games like Catan, there are three main elements that we have to keep in mind. These components include trading, dice rolling, and the collection of resources. There are also some other game mechanics that we have found in games similar to Catan.
Here are some of the popular game mechanics that we will focus on:
Tile Placement – this includes placing physical components or resources on the game board
Area Control – this involves using tile placement and strategy to claim certain areas of the board
Resource Management – everything having to do with claiming, spending, and/or trading in-game resources
Worker Placement/Role Selection – this involves using your "workers" or "meeples" and choosing from a specific set of actions to complete on a given turn
You will notice that the board games we will list in this article have similar aspects to Catan, including some interchangeable game mechanics and components. A lot of these games like Settlers of Catan share similar game mechanics that make for a great gaming experience.
What is Catan?
Catan, also known as Settlers of Catan, is a strategy game that is easy to learn and pick up after a few rounds. It served as our very own gateway board game that lead to our addiction to board games today.
Catan is probably one of the most popular board games on the market for serious board gamers. Catan's simple structure of building and trading also involves a lot of strategy that really opens you up to what other board games have to offer.
The foundation of Catan consists of players trying to be the dominant force on the island of Catan by building settlements, cities, and roads. On each turn, dice are rolled to determine what resources the island produces. Players collect these resources (cards)—wood, grain, brick, sheep, or stone—to build up their civilizations and expand through the island by using dedicated roads.
Points are accumulated by building settlements and cities, having the longest road and the largest army (from some of the development cards), and gathering certain development cards that simply award victory points. The game is over when a player hits 10 points during their turn.
It may sound like a lot, but Catan is one of the best strategy games out there that is actually so much fun to play. Where else could you trade sheep for wood!?
If you have played Catan many times over, or just like the idea of Catan, then it may be time to expand your horizons and play other board games like Catan.
Board Games Like Catan
With all that being said, we have done some digging for you and found some of the best board games that we feel are very similar to Catan, whether it is based on game mechanics or theme.
Check out our list below of board games like Catan.
1. The Castles of Burgundy
The Castles of Burgundy is a board game in which players must plan, trade, and build up their own personal estates. Similar to Catan, players must build settlements and trade for better resources that they can use for their own benefit.
A huge aspect of this board game involves tile placement, where players will place functional tiles on their game board. Each round, a player can perform any two of four actions. Actions include taking a settlement tile and placing it in their staging area, placing a tile from the staging area onto their player board, delivering goods, and taking worker tokens.
Each settlement tile will offer a benefit, additional actions, additional money, advancement on the turn order track, more goods tiles, die roll adjustment, or victory points.
Throughout the game, victory points are awarded. At the end of all of the rounds, the player with the most victory points wins.
The game mechanics in the Castles of Burgundy is very similar to Catan as it involves dice rolling, tile placement, and worker placement. This game can be played with 2-4 players in about 30-90 minutes.
2. Bohnanza
Another board game that is big on the "trading" aspect is Bohnanza. Trading is the main component of this game. The best part is that the items you are trading is beans!
Bohnanza is an older game, hitting tabletops in 1997. Players farm beans, harvest crops, and trade with others. The heart of the game is trading your cards to other players. Matching up bean cards and placing them into your fields will allow you to harvest beans in order to earn coins.
If your favorite part of Catan is the trading mechanic, then you will love Bohnanza. It is sure lacking some other game mechanics from Catan, but it is still a great card game that has been around for a long time.
3. Ticket to Ride
Ticket to Ride is another gateway board game that we started playing a lot after getting our Catan fix. It's a fun and simple game, as players either pick up a card or play a card.
Ticket to Ride is a cross-country train adventure in which players collect and play matching train cards to claim railway routes connecting cities throughout North America. The longer the routes, the more points they earn.
Additional points come to those who can fulfill their Destination Tickets by connecting two distant cities, and to the player who builds the longest continuous railway.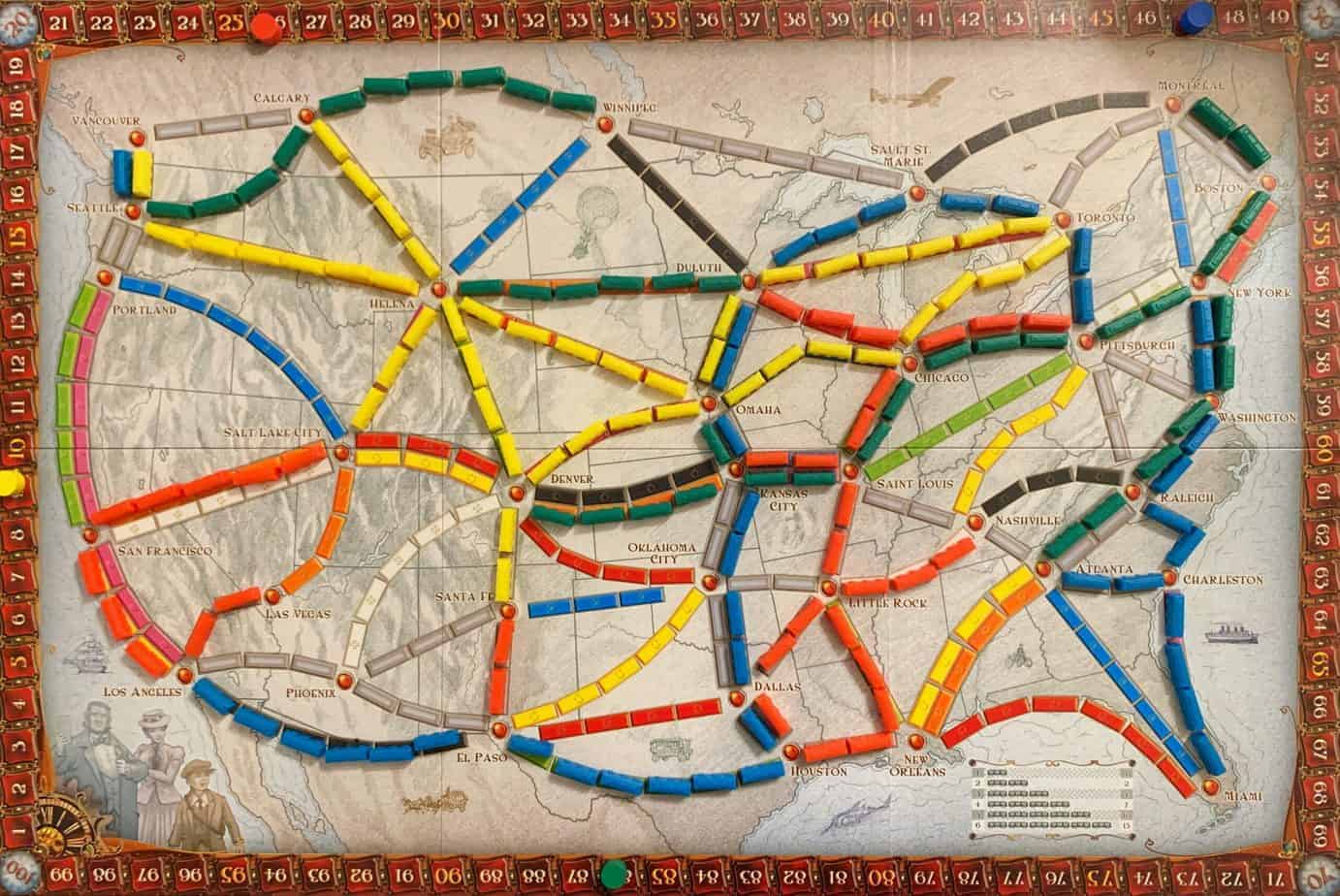 Ticket to Ride has become so popular, they have come out with many expansion packs that map out the entire world. It's easy to learn and quick to play, while still involving some light strategy.
Although Ticket to Ride is simpler than Catan, it does offer similar game mechanics in drafting cards and placing them strategically on the game board.
4. Concordia
Concordia enlists players in leading their own Roman dynasty and build the greatest trading empire in the Mediterranean. This game relies heavily on players using their strategic abilities in order to trade and limit the actions of other players.
Players will have to keep a close eye on their opponents and work to outpace them. Colonists will be sent out from Rome to settle down in cities to produce bricks, food, tools, wine, and cloth. During the game, there will be different actions and opportunities to earn victory points.
Similar to Catan, players will have to strategically plan their moves in advance and block routes from opponents in order to advance their own personal glory.
5. Viticulture
Viticulture is a great game for wine lovers and has similar aspects to Catan! In Viticulture, players will test their winemaking skills and will need to think strategically in order to create the greatest winery in Italy.
Players will plant vines, harvest grapes, age wines, and fill merchant orders. You will expand your vineyard by building structures and planting vines. Don't forget to poor your own glass of wine before you start playing viticulture!
Calling all wine lovers! Get your copy of viticulture today.
6. Dominion
Dominion is a board game for 2-4 players that can be played in 30 minutes. Each player starts with an identical deck of cards. Another set of cards are placed in the center of the table. These cards can be "purchased" once players are able to afford them.
Players must construct their own deck of cards by purchasing cards and playing their hand depending on which cards they draw. The goal is to create the most efficient path to victory points before the game ends.
Dominion comes with 500 cards! You select 10 of the 25 Kingdom card types to include in any given play, making Dominion a very replayable game. Play your cards right and you just might be victorious!
Preview
Best Choice
For Beginners
Title
Ravensburger Castles of...
AMIGO Bohnanza Gold by AMIGO...
Ticket to Ride Board Game |...
Rio Grande Games: Concordia,...
Stonemaier Games Viticulture...
Rio Grande Games Dominion 2nd...
7. 7 Wonders
7 Wonders is a board game that is quick to learn, quick to play, and addictive in the beginning as you adjust your strategy. You can play this game with 2 to 7 players, adding or removing players without losing quality of gameplay. You can typically play through the full game in 45 minutes which is perfect for our gateway game criteria.
Basic gameplay consists of players playing cards to build up their civilizations through a series of three rounds. Strategy comes in when players must manage their cards accordingly in order to play production building cards, victory point building cards, and action building cards.
Every round, each player plays one card simultaneously and then must pass the rest of their hand to the person next to them. This mechanic forces you to balance your cards between playability and cards you do not want your opponents having for themselves.
The ultimate goal of the game is to acquire victory points. At the end of the 3rd round, the player with the most victory points is the winner.
The duration of the game is perfect for new players, and they may find themselves wanting to play more rounds. We found it similar to Catan due to the strategy involved and the replay-ability.
8. Stone Age
In Stone Age, players will become the leader of their own tribe of early humans living in the stone age. You are a hunter a gatherer, looking to construct the best tools and tribes in order to become victorious.
Live in the time of the Stone Age as your duties include collecting wood, breaking stone, and washing gold in the river. As you collect resources, you have the ability to trade freely and expand your village to achieve new levels of civilization.
Similar to Catan, this is a worker placement game that involves constructing tribes through agriculture, tools, and humans. Players will use their workers to gather resources, hunt for food, build, and trade.
9. Agricola
Agricola has many similar aspects to Catan. Players will take the role of a farmer, working on their land to nourish crops and livestock. We believe that Agricola is a step up from Catan, as it offers intricate components and a lot of strategy.
In Agricola, you are a farmer who has total control over your land. You will work to care for livestock, tend to crops, and build up facilities on your farm.
On a turn, players will take two actions that can include collecting clay, wood, or stone, building fences, and more. It's important to be strategic and use your limited actions per turn wisely.
Agricola is a great step up to Catan that adds just a bit more components and strategy necessary to be a board game like Catan.
10. Terra Mystica
Terra Mystica is a fantasy themed game that includes expanding your influence and territory by terraforming and joining cults. Players will start with their own territory and will work to terraform neighboring landscapes into their home environments in competition with the other groups.
Terra Mystica involves tons of strategy and performing actions on the resources you have at your disposal. Different buildings will allow players to develop different resources that they can use to terraform and expand territory.
The island of Catan is similar to that of the landscape f Terra Mystica. It forces players to work to expand on a limited map and cut off other players from gaining resources by strategically blocking them.
11. Puerto Rico
I was actually introduced to the board game Puerto Rico through an online version of the game on Board Game Arena. After playing for hours, I decided to purchase the physical copy of the board game. This game is HUGE on strategy and planning every move. Yes, a little luck can come into play, but it mostly comes down to how you utilize the resources in front of you.
In Puerto Rico, players assume toles of colonial governors working to earn victory points by shipping goods to Europe or constructing specific building types. Different roles can consist of growing crops, shipping goods, constructing buildings, and choosing roles that will benefit them more than others.
Puerto Rico is a fun game that can be a bit challenging to learn, but very rewarding in the end. This game has been around for awhile and will give you a taste of board gaming history, as well as what board games have to offer past your standard roll and move board games.
If you love Catan, then you will find that Puerto Rico is a great step up from Catan that will add more components and tons of strategy.
12. Power Grid
Power grid is a board game that gets you racing to supply the most cities with power, using the resources you manage throughout the game. The goal of the game is to have the most power plants powered by the end of the game.
Each round consists of four phases where players can auction for power plants, bid up other players and buy a power plant, buy resources for the power plant they own, and buy cities and expand their network. In the last phase, players discard their resources to power their plants and receive income based on how many cities they powered. This cycle repeats throughout the game.
Power Grid is a highly interactive game as the bidding for power plants can pit players against each other and cause chaos. This game is also very repayable. The great part about Power Grid is that the game has deep strategy and a very low "luck" or "chance" aspect.
Preview
For Advanced Players
Title
7 Wonders Board Game BASE GAME...
Z-Man Stone Age Anniversary...
Agricola (Revised Edition) |...
Capstone Games Z-Man Games...
Preview
Title
Z-Man Stone Age Anniversary...
For Advanced Players
Preview
Title
Agricola (Revised Edition) |...
Preview
Honorable Mentions
13. Carcassonne
Carcassone offers a great pace and approachability that we found similar to playing Catan. Gameplay consists of turns where each player draws and places a map tile. They must choose whether or not to place one of their game piece "followers" on that tile.
Tiles can consist of objects such as roads, fields, or cities. Each tile must match up with the edges of a tile it is placed next to. There are other rules to the game, but they are very simple to learn. A new player will be able to get the hang of the gameplay after just a few rounds.
The game is scored at the end by how your "followers" were placed on different valued tiles. Gameplay can last about 40 minutes, which is the perfect duration for a gateway game.
Carcassone serves as a great game like Catan, as it isn't too dense that it will scare away non-gamers, but it's also simple enough that you feel you have mastered the game after only a couple of rounds.
Carcassonne is also included in our list of board games like Ticket to Ride, making it a really well rounded game that is suitable for everyone!
14. Terraforming Mars
Terraforming Mars is a popular engine building game that you will most likely hear a lot of people talking about. It's a sweet mix of engaging gameplay, a cool theme, and the shared mars board that adds a lot of player interaction.
Terraforming Mars is a game for 1-5 players with gameplay usually lasting about 2 hours. Players must develop a 'New World' on Mars and make difficult choices in order to bring life to Mars.
As mankind begin to terraform the planet Mars, you must work as a large corporation and play project cards that will introduce plant or animal life to mars, build cities, or collect resources. Players keep track of their production and resources which go towards increasing your overall rating in your process to terraform mars.
It can be a bit complex at the start, but it's definitely worth diving into. There's a lot of expansions so you can keep on playing if you end up falling in love with it.
Board Games Like Catan
We hope you were able to gather a few ideas on some board games like Catan that you can add to the roster for your next game night.
Some other honorable mentions include Century Spice Road and Suburbia!